TetraPak approached The Kabadiwala with an objective of diverting 50 tonnes of Used beverage cartons from landfills in Bhopal & turning them into beautiful products.
To achieve that The Kabadiwala curated a used beverage carton collection roadmap to ensure that no UBC go to waste.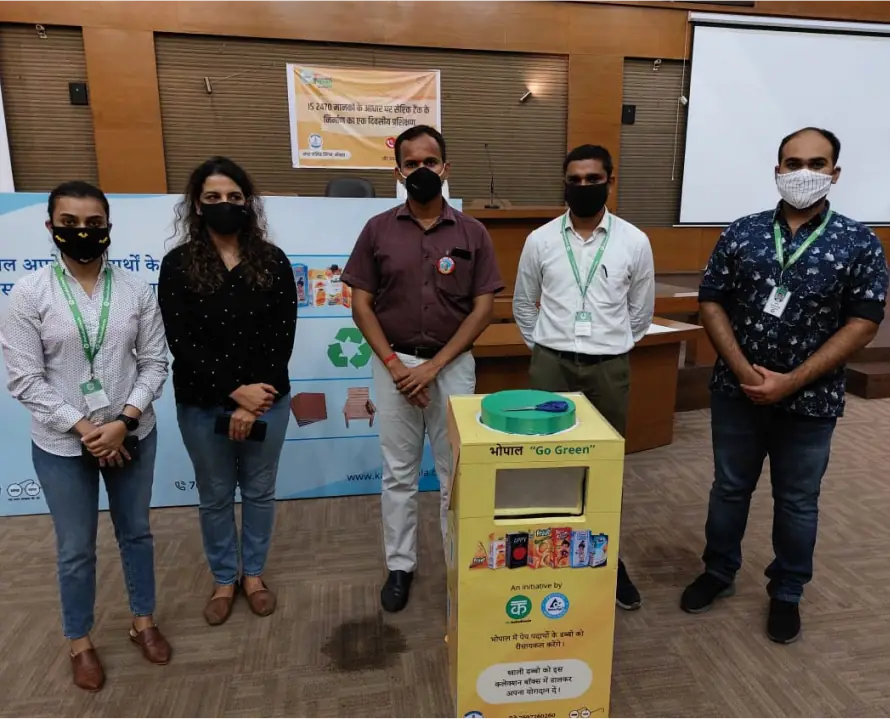 The campaign was launched in collaboration with the BMC officials in May 2021.
Firstly, we focused on activating the recovery sources and collection points.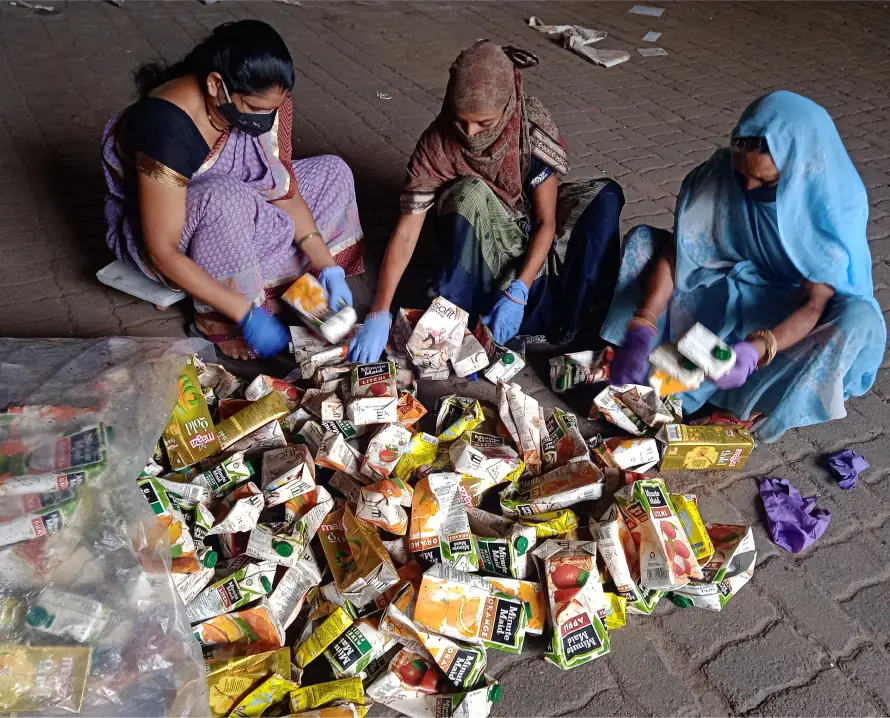 Sensitised people about source segregation & sustainable disposal of the used beverage cartons to divert them from going to landfills. Thereby, reducing the adverse environmental effects of irresponsible trashing of UBC.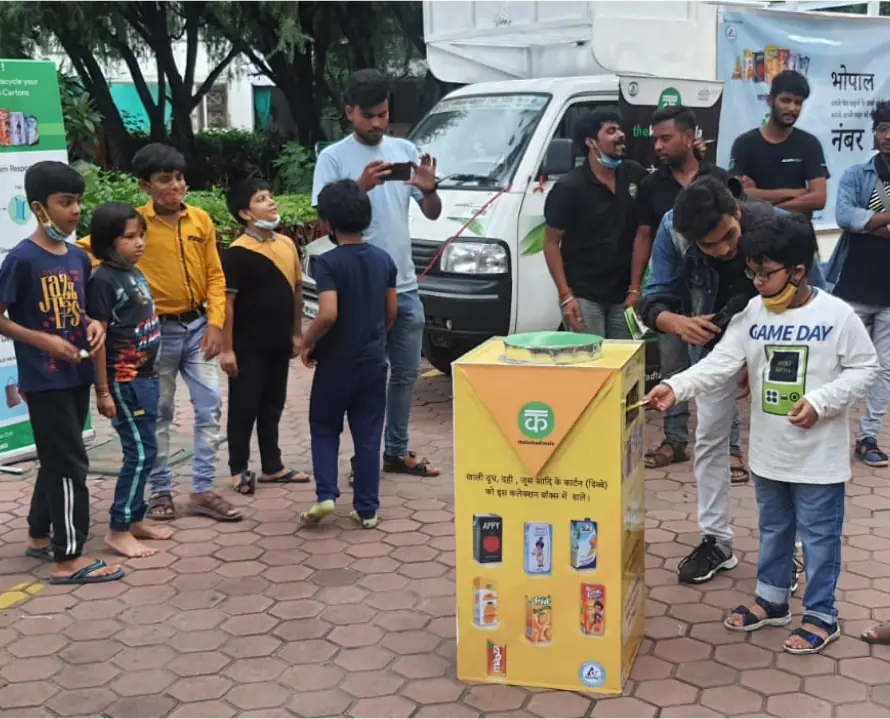 Collection drives/Nukkad Nataks were organised covering all the prime markets and residential areas of Bhopal. And, collection boxes were installed for the same at Institutes, Residential societies, Restaurants etc.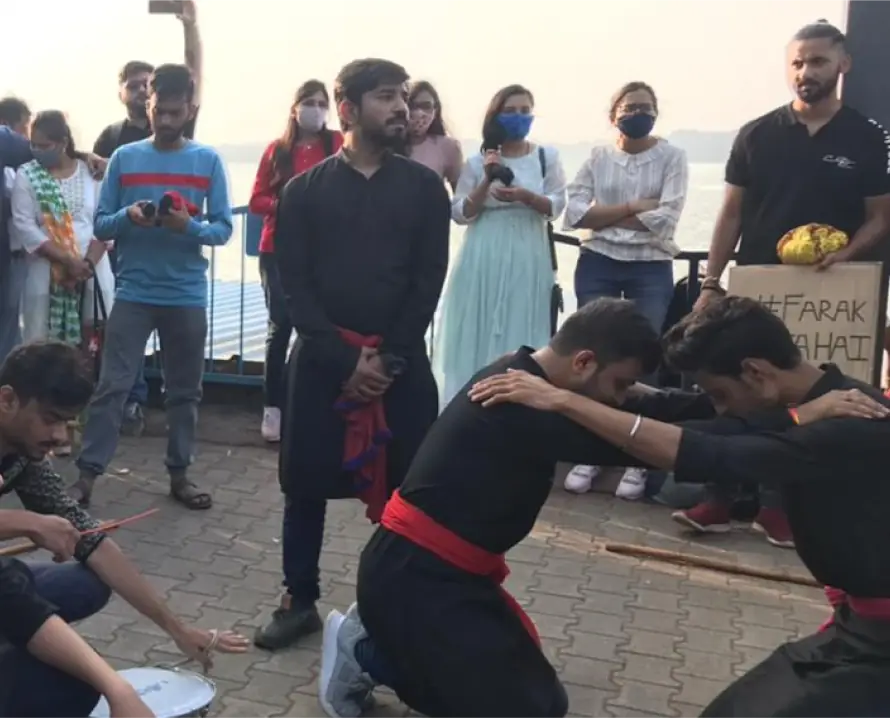 The Kabadiwala incentivised people for using its digital platform for the smooth selling of used beverage cartons at best scrap rates. For that, we included Used Beverage cartons as one of the scrap categories on The Kabadiwala App & website. So that people can schedule free and convenient pick up from the comfort of their homes. We also gifted recycled Tetra Pak products for their contribution.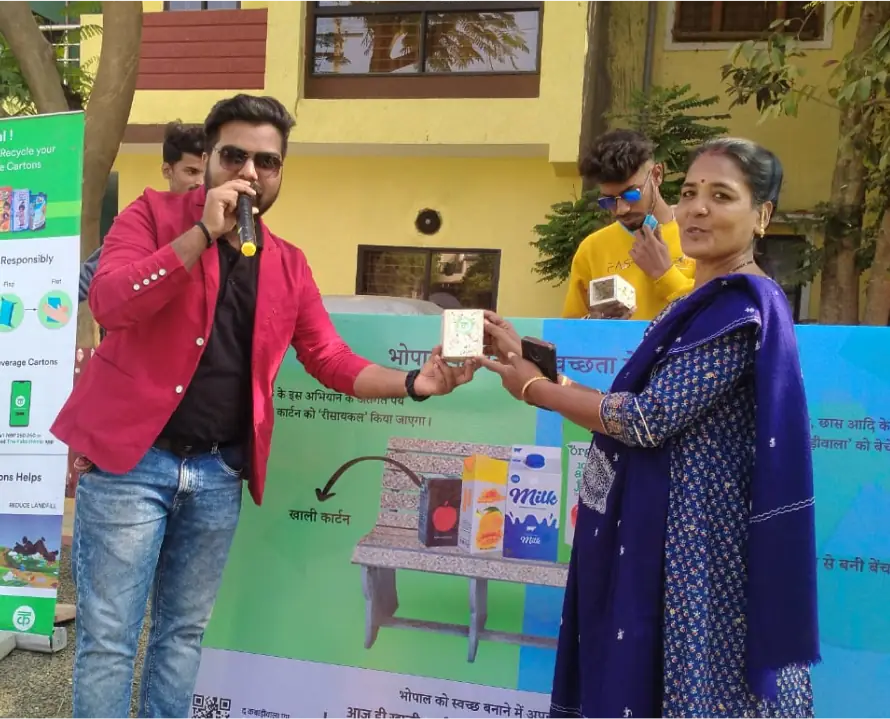 The Kabadiwala conducted capacity building workshops for small scrap dealers & waste pickers in which we provided them training on used beverage carton's collection process & safety standards to follow at the MRF centres and other recovery sources.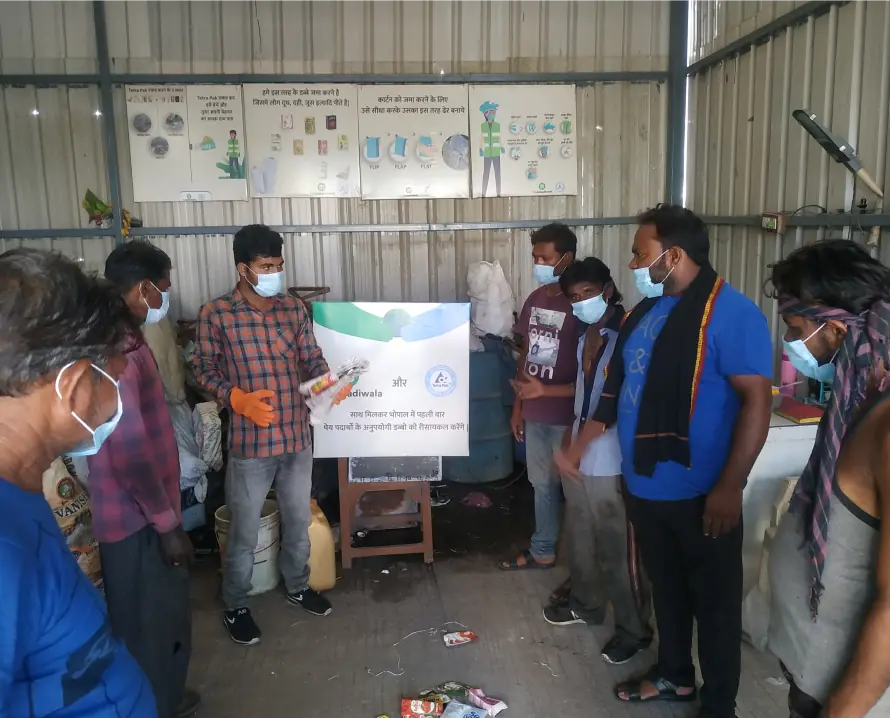 To encourage Tetra Pak used beverage carton collection, we incentivised the waste pickers with the cash prizes of Rs. 500 to Rs. 1000 for highest collection, along with gifts.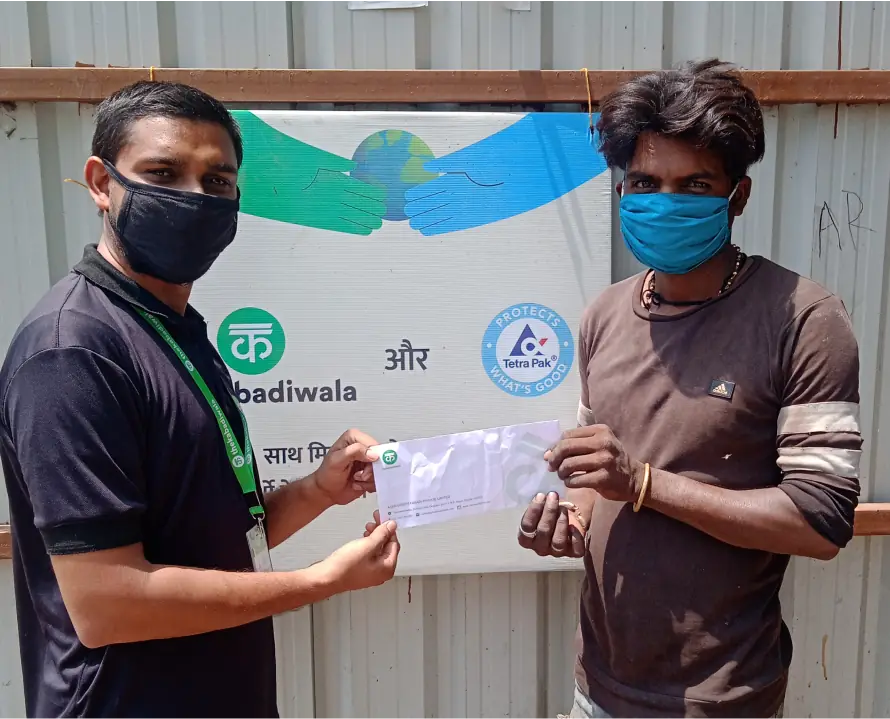 The awareness campaign continued even when the collection process started. Canopy & Standees were fixed in the market area. Pamphlets & Brochures were distributed. Published print Ads & Hoardings were mounted across Bhopal.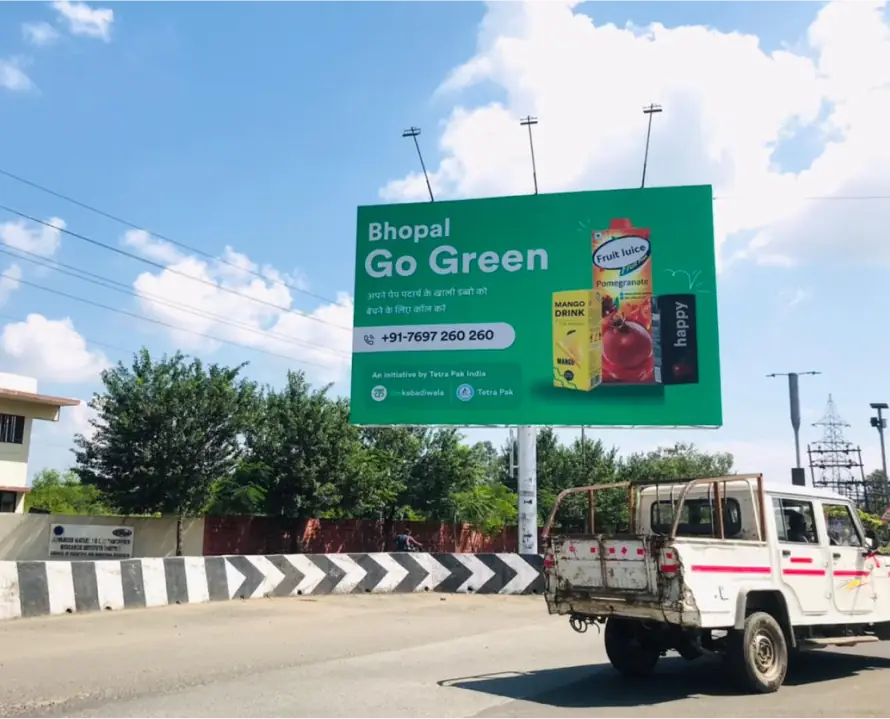 We also reached out to The Kabadiwala's user base of 25000+ in Bhopal through Messages, In app Notifications, whatsapp and calls. Whereas, Campaign creatives are stil posted from time to time on social media platforms to target tech-friendly consumers.
The campaign also received immense media coverage which helped in the success of the campaign as a whole.
By now, we have activated a network of 150+ waste pickers and small scrap dealers, and created approx 10 green jobs.
By practising TetraPak UBC'S recycling, around Tonnes of resources and kms of landfill space were saved in Bhopal.
Recovered 55 tonnes of UBC from Municipal Dump at MRF centres, which resulted in the co2e greenhouse gas reduction.
Sensitised 10,000+ people on zero waste.
Before this campaign started UBC collection was 0 in Bhopal. We were able to collect and recycle 55+ tones of used beverage cartons with the help of The Kabadiwala awareness and on-the-ground efforts in just 1 Year And the campaign still continues to grow.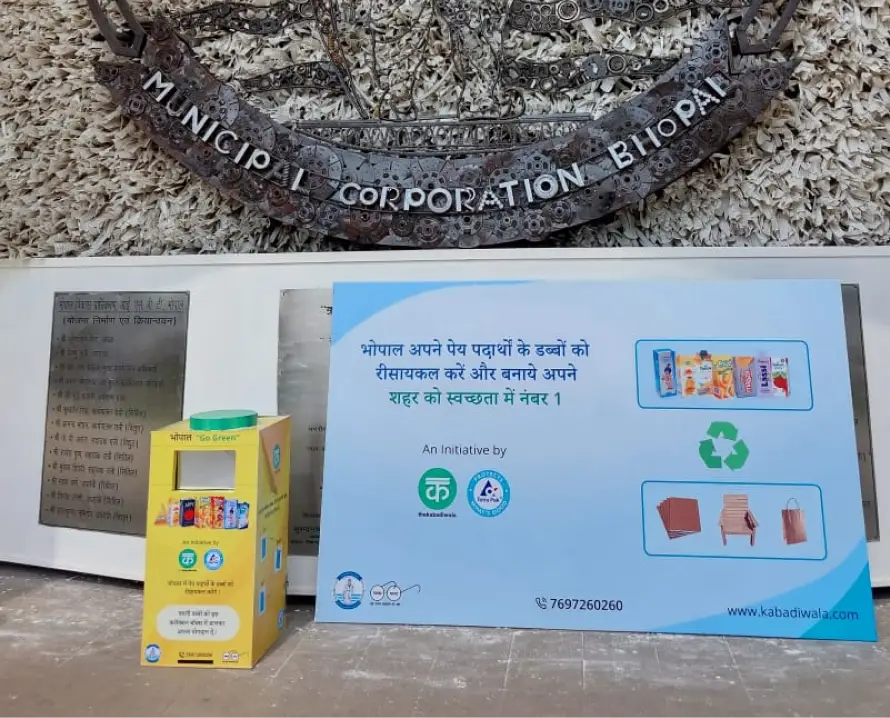 Our Initiatives
Small steps towards
sustainability.